Catalogs.com Departments

News & Articles

Daily Bible Devotions – Crossings®
Start the day with daily Bible devotions to live a purpose-driven life
Reading daily Bible devotions is a good way to strengthen your faith allowing you to follow a more righteous path. There are a variety of devotionals written to help you cope with life's challenges and learn to deal with tough situations with love, faith and understanding.


A woman's job never ends. Between the children, household chores and work, women juggle many responsibilities.... read more


This catalog is currently out of stock.


Please search through our categories for another catalog.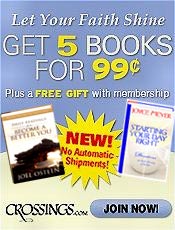 More About Daily Bible Devotions – Crossings®:
Other great Crossings departments:
That's why there are daily Bible devotions written especially for women to help them manage daily tasks without losing themselves.


Introduce the power of God to children at an early age. Daily Bible devotions for children are an excellent way to help little ones understand the meaning of life and God's infinite presence in it all.
The teenage years can be a challenge for young adults. With the help of daily Bible devotions for teens, issues such as peer pressure and self-image can be addressed more easily enabling them to realize their full potential.
Joel Osteen and Joyce Meyer have helped millions of people connect with God and develop their inner spirituality. Their books are inspirational and include daily Bible devotions to help you live a more fulfilling life with God at the forefront.
Daily Bible devotions will help you deal with life's many challenges. By developing your spiritual being and understanding God's infinite power, you will live life to its fullest.