Catalogs.com Departments

News & Articles

Healthy Living Recipes – One Spirit®
A variety of nutritious meals to help you live a healthier lifestyle
Show your family that you care by preparing healthy living recipes that are fast, easy and yummy. Taking small steps to live a healthier lifestyle is all you need to make a big change in your overall well-being and health.


Losing a few extra pounds is easy when you prepare healthy living recipes. Select from a variety of books that show you how to eat right and make responsible choices for your dieting needs.... read more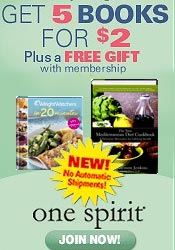 More About Healthy Living Recipes – One Spirit®:
Other great One Spirit departments:
Are you feeling sluggish, tired or bloated? There are healthy living recipes to target those symptoms and help you to detox your body. Eat more fruits, vegetables and lean protein to renew your body's defenses and re-charge your life.
Kids are welcomed in the kitchen, too. When you cook healthy living recipes with your children, you teach them how to prepare foods that are good for them. What they learn today about healthy eating habits will last them a lifetime.
Enjoy healthy living recipes created by your favorite celebrity chefs. You'll get helpful tips on how to prepare easy, delicious meals that also save time in the kitchen.
Cooking has never been easier with healthy living recipes that are fun to prepare, tasty to eat and good for your heart. Take care of your body by eating meals that are not only delicious but nutritious, as well.