Catalogs.com Departments

News & Articles

Horror Story Books - Dorchester Publishing
Horror story books bring spine-tingling chills to your reading
Don't turn out the light! After reading these horror story books, you'll be lucky if you can go to sleep without waking at every tiny noise.


Chills and thrills - Enjoy a good scary story? Then you'll love the horror story books from Dorchester Publishing. A large selection of horror authors ensures a great, bone chilling variety of creepy tales for your pleasure, from the supernatural to the super scary.... read more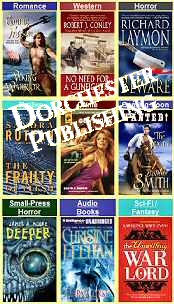 More About Horror Story Books - Dorchester Publishing:
Other great Dorchester Publishing departments:
Terrifying titles abound - Nightmare House, House of Blood, Dark Universe and The Museum of Horrors are just some of the blood-curdling tales you'll find here. All of these horror stories are sure to send goosebumps up your spine!
For true horror fans - Whether you like curling up with a long novel or short story collections are more your style, you'll find horror story books in novel and anthology form. Any way you like your chilling tales served up, you'll find it here.
You may have to sleep with the lights on when you finish with these horror story books. These tales of murder, madness and mayhem are sure to stay with you for a long time!