Catalogs.com Departments

News & Articles

Personal Growth Books – One Spirit®
Personal growth books for a more fulfilling lifestyle
Be all you can be spiritually, emotionally and physically. Personal growth books show you how to find yourself through meditation, exercise and personal awareness. Experience the beauty of being the best you can be.


There is power in positive thinking. Personal growth books show you how to change negative thoughts and words that can flood your mind, preventing you from moving forward in life.... read more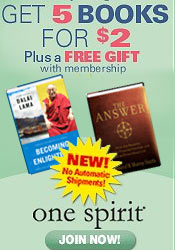 More About Personal Growth Books – One Spirit® :
Other great One Spirit departments:
Think positive and experience a difference in the quality of your life.


The mind can effect how you feel. Understand how depression, anxiety and other disorders can negatively impact your body and cause sickness. In personal growth books, learn how to overcome many of these ailments.
Personal growth books will show you how to unleash the power within. Learn how your ability to forgive is a wonderful first step towards personal fulfillment and emotional well-being.
It's ok to be different. Personal growth books are available to help you accept who you are as a human being so you can appreciate your strengths, understand your weaknesses and live life to its fullest.
If you want to become a better person, turn to personal growth books for help. Here you will find valuable information that will help you become a better you. Learn from the experts. You have the power within to make a drastic difference in your life.