Catalogs.com Departments

News & Articles

Western Historical Fiction - Dorchester Publishing
Western historical fiction satisfies readers who love the Old West.
Book buffs who can't get enough of the Old West and its ways will love the variety of western historical fiction from Dorchester Publishing.


Excitement on every page - Read stories about some of America's real romantic heroes, the cowboys who tamed the Wild West. Their gun-slinging, free-spirited ways are full of adventure, excitement and love of the land.... read more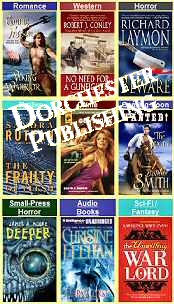 More About Western Historical Fiction - Dorchester Publishing:
Other great Dorchester Publishing departments:
Classic authors and classic stories - From the famed Louis L'Amour to Zane Grey, you'll find western historical fiction by great western authors. Lose yourself in a world where man had to tame animals and the land around them in titles like Showdown Trail, Riders of the Purple Sage and Mountain Storms.
Affordable fiction - With low club prices, you can enjoy all the western historical fiction you want. A large selection of novels will keep you immersed in a world where cowboys, Indians, women and the animals they cared for all came together, in times of love and war.
Fans of western historical fiction will love the varied stories of a time in history when the world was untamed and the men and women who tamed it.