Catalogs.com Departments

News & Articles

Whole Foods Recipes – Crafter's Choice®
Prepare meals with whole foods recipes and be in good health
When you are ready to make a lifestyle change for the better, start by using only wholesome ingredients. Read books that feature whole foods recipes to improve your diet and everyday lifestyle. You will notice a difference in how wonderful your mind and body feel.


Cookbooks have whole foods recipes that are easy to make and provide your body with essential nutrients needed to keep your brain sharp, body strong and soul invigorated.... read more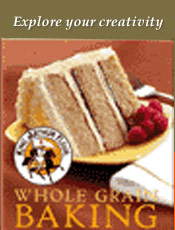 More About Whole Foods Recipes – Crafter's Choice®:
Other great Crafter's Choice ® departments:
Enjoy quick snacks and delicious meals that are tasty to eat.


Stay away from harsh detergents and abrasive powders when cleaning your home. There are even whole foods recipes you can use around the house to clean, disinfect and deodorize. So, the next time you want to brighten your kitchen sink, pull out a lemon wedge and salt to make it shine like new.
If you like getting your hands dirty, you'll enjoy growing your own whole foods. Save money and avoid dangerous pesticides by planting your own vegetable garden and fruit trees. Then read cookbooks that feature whole food recipes you can make using your own crop.
To shed a few extra pounds, stay away from processed foods and eat more whole foods. Discover a lot of delicious whole foods recipes in books that have daily regiments you can follow when dieting.
Whole foods play an important part in living a healthier lifestyle. Learn how to use whole foods recipes in your diet and see the difference that nature's foods have on your body.