Catalogs.com Departments

News & Articles

Baby Rooms Bedding - Stylish Kids Rooms
Baby rooms bedding and decor for a beautiful nursery
Looking for adorable, stylish nursery decor for your new bundle of joy? Then look at baby rooms bedding for little girls and boys, whatever your nursery theme.


Is cute and cuddly your style or do you prefer modern and chic? Stylish Kids Rooms has baby rooms bedding to suit a huge variety of styles. For infant girls, there's plenty of pink in bedding sets like Oopsy Daisy, Pink Taffy and girly named themes like Emma and Isabella.... read more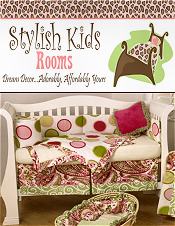 More About Baby Rooms Bedding - Stylish Kids Rooms:
Other great Stylish Kids Rooms departments:
These feminine bedding sets are full of sugar and spice and everything nice!


For parents who want something bold and dramatic, there's baby rooms bedding in sets like Wabi Sabi, featuring bright colors and cutting edge style. Baby boys can enjoy peaceful slumber surrounded by designs featuring trucks, blue hippos, green frogs, trains and so much more!
Cradle bedding sets are perfect for the smallest newborns who fit into cradles and are quietly rocked to dreamland. Choose from girl, boy or unisex designs that will make baby's nursery stand out.
Find the perfect baby rooms bedding for your little one's room. Your baby will sleep peacefully and comfortably in beautiful style.