Catalogs.com Departments

News & Articles

Childrens Art Toys - Young Explorers
Childrens art toys open a world of possibilities
Give young artists the tools they need to create new worlds for themselves with childrens art toys that give them color and a ton of possibilities.


It's no secret that children are naturally creative. They love painting -- either with brushes or with their fingers. They love molding clay into dinosaurs, puppies, monsters and more. Childrens art toys from Young Explorers gives all little artists the chance to create whatever they like with face painting kits, playfoam, color bugs, pottery wheels and more.... read more



Shop for childrens art toys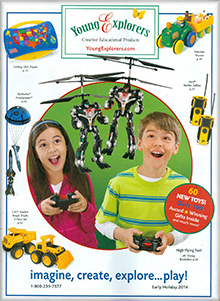 More About Childrens Art Toys - Young Explorers:
Other great Young Explorers departments:
With such a varied selection, they can explore many different aspects of artistic freedom.


Kids can make items for themselves or can make their own unique gifts. With a make your own cards kit, now they can create special cards for birthdays, holidays and any other occasion. Putting their personal stamp on their own creations will fill them with a sense of pride. You'll be amazed at what childrens art toys can inspire!
Give them the tools and let them do the rest. Childrens art toys allow kids the chance to fully explore their artistic sides and create unique and beautiful works of art.