Catalogs.com Departments

News & Articles

Childrens Classic Toys - Young Explorers
Childrens classic toys provide old school fun for today's kids
The toys you loved as a child are still around today and are just as enjoyable as ever! Childrens classic toys will provide the same hours of fun to today's kids, in old school style.


Before video games hit the scene, kids played with other memorable toys such as sack racing kits, booby trap, Rock em Sock em Robots, pirate ships, knight castles, wooden blocks, tree timber sets and much more.... read more



Shop for childrens classic toys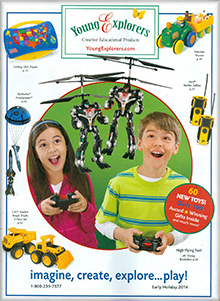 More About Childrens Classic Toys - Young Explorers:
Other great Young Explorers departments:
These childrens classic toys can be loved by many and offer you a fun and nostalgic trip down memory lane. Not only are they timeless, they rely on one ingredient that can't be replaced: a child's imagination.


Let kids display their creativity with a Knot a Quilt or Loop n Loom kit, perfect for making functional and fun items with their hands. The classic strategy game of chess improves critical thinking skills and is something they can enjoy the rest of their lives. Other childrens classic toys include learn to play pianos, real guitars and dress up sets for afternoons full of delight.
If you're looking for toys whose appeal will last forever, childrens classic toys from Young Explorers are sure to please kids of all ages!