Childs Graduation Cap - Alphabet U
A childs graduation cap perfect for the littlest graduates
The youngest grads need cap and gown sets for their pomp and circumstance, so a childs graduation cap is a necessity for preschool and kindergarten graduates.


There are few things cuter than watching a bunch of excited preschoolers or kindergarteners graduate and move on to a bright future. Each happy grad needs a childs graduation cap to top their gown.... read more


This catalog is currently out of stock.


Please search through our categories for another catalog.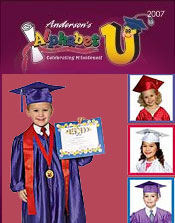 More About Childs Graduation Cap - Alphabet U:
Other great Andersonís Early Childhood Development departments:
Choose from paper or poly-cotton; or get the children involved with caps they decorate themselves! No two will be alike. Parents and teachers will have a great time looking back on the previous year while watching their young charges say good-bye to preschool or kindergarten.


A childs graduation cap made of paper is a low-cost option which saves money for large classes. Available in red, blue, black or white, these expandable caps work with a variety of gown colors. Don't forget cute little cap clips and tassels. Every graduate's commencement outfit will be complete with these adorable accessories that kids will love.
Alphabet U has just what preschools and elementary schools need with a childs graduation cap for this special ceremony.