Catalogs.com Departments

News & Articles

Cool Baby T Shirts - Psycho Baby
Cool baby T shirts are cute and funky
Is your baby the coolest kid in the world? Then dress him up in cool baby T shirts and let everyone know just how hip he is.


Rocker and retro chic - Even if your baby doesn't know who The Beatles are, she can wear cool baby T shirts featuring classic bands like The Rolling Stones, AC/DC, Kiss and the Grateful Dead. Throw it way back with retro tees bearing Old School slogans and cartoons.... read more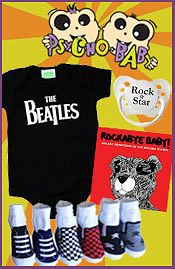 More About Cool Baby T Shirts - Psycho Baby:
Other great Psycho Baby departments:
Make 'em laugh - Junior's inherited your sense of humor, right? Funny cool baby T shirts can be as hilarious and irreverent as you are. Keep the smiles coming with DJ Drool and Mommy's Little Monster tees, which describe your baby to a T!
You don't do cute - Sure, teddy bears and bunnies have their place. Just not on your baby! Your baby was born to rock, so why not let the world know it with a selection of tees only for the coolest kid ever.
Psycho Baby has the craziest selection of cool baby T shirts that you and baby will love.