Cool Toddler Toys - Psycho Baby
Cool toddler toys are a ton of fun
Ignite your toddler's imagination with a full selection of cool toddler toys sure to keep your child busy with play.


Let them express their creativity - Children are naturally creative, so why not give them the tools to create whatever they want? Cool toddler toys like no mess finger paints, crayon travel cases and first paintbrush sets let your child express her artistic side in vibrant color.... read more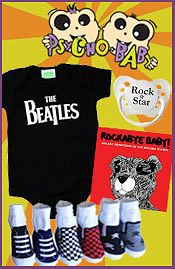 More About Cool Toddler Toys - Psycho Baby:
Other great Psycho Baby departments:
Explore new worlds - What toddler doesn't pretend to be a pirate or a firefighter? Cool toddler toys let your child pretend to be whatever he wants, whether it's a pirate, farmer, dinosaur or monster. Dress up toys and tool sets encourage imaginative play.
Enjoy the classics, too - Tea party sets, pull-along trains, colorful blocks, chunky puzzles and animal rockers have been around for ages, but are just as enjoyable today as they've always been. You'll love seeing how much fun your toddler has with the same toys you played with when you were a kid.
Psycho Baby has a full collection of cool toddler toys that will bring a smile to your child's face, whether he's creating adventures, making up pretend games or playing with you.