Catalogs.com Departments

News & Articles

Educational Toys – Oompa Toys
For fun educational toys, Oompa Toys are the smart choice
When it comes to early childhood development, the earlier you start, the better. Rest assured Oompa Toys excels with a best-selling line of early learning educational toys. Kids don't need bells and whistles to have fun. And you don't need to splurge on expensive electronics to engage them. Take a quieter, simpler approach on educational toys -- toys that educate and inspire little minds.


Let the learning begin with Oompa's hit line of European-made educational toys -- includes top sellers like the Wooden Numbers Stacking Board and Rings from Bajo, Baby Flash Cards from Wee Gallery and Boite A Souris from Chelona.... read more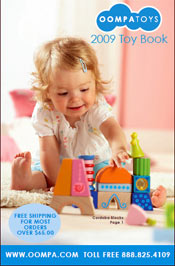 More About Educational Toys – Oompa Toys:
Other great Old Oompa Toys departments:
It's easy to find the perfect educational toy, because you can search by category -- find toys by age, by brand or by area of learning development (like learning ABCs, color sorting, counting, fine motor skills, shape sorting, memory and matching, time telling and so on).
Options for fun, educational toys are simply endless -- at Oompa online you'll find an ever-expanding collection of European-designed wooden toys, musical toys for babies, bath time toys, plush dolls and stuffed animals, art supplies, dollhouses and accessories…and so much more to inspire their imaginations and entertain them for hours!
Get geared up with the latest, greatest baby gear and most stylish children's furniture -- including baby strollers, high chairs, diaper bags, baby luggage, trendy cribs, tables and seating, dreamy beds & bedding, smart desk designs and clever playroom storage options.
When it comes to baby products, keeping it simple is simply better – items sold at Oompa online are not only natural, safe and eco-friendly, but also non violent in nature.