Catalogs.com Departments

News & Articles

Fun Kids Things - Current
Fun kids things will keep children amused and entertained
Keeping kids busy and entertained is part of making sure everyone is happy! Now you can provide your children with a huge variety of fun kids things that will channel their creativity and imagination while ensuring they have a great time as well.


Kids of all ages love stickers. You'll find stickers here to match any personality and interest, including Disney princesses, dog breeds, animals, valentines, Bible stories and more! They can decorate their own scrapbooks, photo albums or special art projects.... read more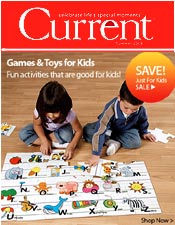 More About Fun Kids Things - Current:
You'll also find fun kids things like singing pens, board books, activity books, personalized pencils, note cards and crafts and hobbies essentials.


Help kids get organized with calendars made with them in mind! You'll find fun kids things that will keep them busy on long car trips, during waits, on airplane or train rides or during summer vacations. You'll also find cool items that they'll be able to use in school. Any fun kids things you can think of, you'll probably be able to get from Current!
No matter what their interest or activity level, there's a variety of fun things to do for any boy or girl!