Horse Toys and Games - Back in the Saddle
Horse toys and games are pony-themed fun for kids
Kids and animals go hand-in-hand. If you have a little one who adores horses, treat them to horse toys and games and they'll be able to play with their favorite animals all the time!


Horse toys and games can be a ton of fun for kids. They can sharpen their artistic skills with an Anyone can Draw Horses book or play different card games with horse friends.... read more



Shop for horse toys and games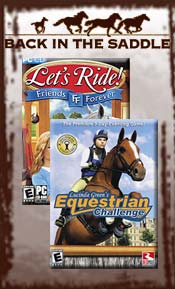 More About Horse Toys and Games - Back in the Saddle:
Other great Back in the Saddle departments:
Anyone who loves Monopoly can now get the horse lovers edition, sure to be a hit for children and adults! Horse themed PC games are perfect for those who like their equine entertainment in a modern way.


Need a gift idea? Choose horse toys and games like a small or large horse tire swing. Or go for a sweet pink pony lil snuggler for the youngest horse lovers. Stamp pad sets are perfect for creative kids. Whether they love riding, playing cowboy or cowgirl, or prefer more artistic play, Back in the Saddle has the perfect toy or game for horse lovers!
For any horse toys and games you have in mind, you'll find a great selection that fits any boy or girl whose favorite animal is horses.