Catalogs.com Departments

News & Articles

Kids Decor Ideas - Stylish Kids Rooms
Kids decor ideas for cool kids rooms
Jazz up your child's room with fun and unique accessories from Stylish Kids Rooms. The variety of kids decor ideas here are sure to add whimsy and delight!


Choose kids decor ideas that aren't just great to look at, but functional, too! Storage buckets fit into different room themes and hold toys, books, games and more. Step stools double as storage units and designs like sports or dance themes are sure to please.... read more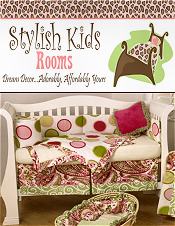 More About Kids Decor Ideas - Stylish Kids Rooms:
Other great Stylish Kids Rooms departments:
Brightly colored clothes trees are decorated with pretty flowers, fun polka dots and chic patterns, but also keep jackets, sweaters and hats off the floor.


Let children get in on the decorating fun by getting their input for their rooms. Book ends for girls or boys are great for holding up precious books, while custom signs let them express their unique thoughts. Other kids decor ideas that will brighten up any room include wall art, playful picture frames, shelving, waste baskets, chalk boards and so much more!
Get inspired with cool kids decor ideas for girls and boys. They'll love the tons of choices they have for making their rooms one-of-a-kind!