Catalogs.com Departments

News & Articles

Kids Scientific Toys - Edmund Scientific
Kids scientific toys teach children about science
Have a budding scientist at home who loves to explore and create his own adventures? Then kids scientific toys from Edmund Scientific will provide him with fun, educational ways to learn that he'll love.


From the simple to the complex, kids scientific toys teach science to any age. Entertaining toys like meteor balls, magic tops, spy gear, thinking putty and space sand challenge them by developing motor and thinking skills, valuable tools every child needs! While they're giving their brains a workout, they're also having a great time.... read more


This catalog is currently out of stock.


Please search through our categories for another catalog.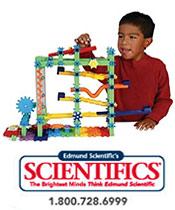 More About Kids Scientific Toys - Edmund Scientific:
Other great Edmund Scientifics departments:
Looking for gift ideas for youngsters who love science? Kids scientific toys make wonderful presents for birthdays, holidays or anytime you want to surprise them. Dinosaurs, Mars mud, brain twist puzzles, lightning labs, hurricane trackers and anti-gravity boots are only a small selection of the many choices you have. Present them with the gift of education wrapped in a fun package!
These kids scientific toys are perfect for children of all ages who are interested in science, nature and discovery!