Catalogs.com Departments

News & Articles

Kindergarten Graduation Themes - Alphabet U
Kindergarten graduation themes are fun commencement ideas
Looking for kindergarten graduation themes that will make a memorable commencement for these little grads? Then Alphabet U has a variety of themes that teachers, parents and kids will love.


It's graduation time! These young graduates are going on to bigger things -- first grade. Kindergarten graduation themes are an easy way to plan a ceremony around a specific idea.... read more


This catalog is currently out of stock.


Please search through our categories for another catalog.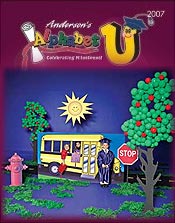 More About Kindergarten Graduation Themes - Alphabet U:
Other great Andersonís Early Childhood Development departments:
There are several school-related themes, such as Schoolhouse, In the Classroom, School Bus or School Supplies. Each theme comes with supplies and accessories that you set up to turn any location into an exciting graduation setting.


Kids Rule! At least, that's one of the kindergarten graduation themes you can use to let little grads know how special they are. Celebrate education with themes like Achieve, Learning Tree or Pier Genius. But don't forget fun ideas like Dinosaur and Elephant themes, something children will truly enjoy.
For rising first graders, kindergarten graduation themes will make leaving kindergarten fun and memorable, for them as well as for their teachers and loved ones.