Catalogs.com Departments

News & Articles

Magnet Science Kits - Edmund Scientific
Magnet science kits teach magnetism in an exiting way
Kids of all ages will be drawn to magnet science kits, which promote learning about magnetism in an exciting way!


Get a hands-on education with magnet science kits that contain everything children need to learn how magnets work. They can perform simple experiments with paper clips, compasses, bar and horseshoe magnets. Books that detail these cool activities allow even the youngest scientists to discover the joys of magnetism and learn at the same time!



Edmund Scientific wants children to experience the fun of magnetism and provides them with a variety of magnet science kits that they'll love.... read more


This catalog is currently out of stock.


Please search through our categories for another catalog.


- or -

Shop for magnet science kits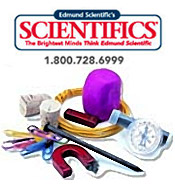 More About Magnet Science Kits - Edmund Scientific:
Other great Edmund Scientifics departments:
From magnet demonstration kits to fields and forces kits, everything they need is included. They'll learn about magnet strength, poles and electro-magnets, whether it's for their personal enjoyment or for demonstrating at science fairs.

Help your child with educational tools that motivate them to learn more. With magnet science kits, they'll discover a world of excitement that they can create on their own.