Catalogs.com Departments

News & Articles

Model Solar Systems - Edmund Scientific
Model solar systems are useful and educational scientific tools
Using model solar systems as a learning tool is a great way for anyone to study astronomy and Edmund Scientific has a selection of models that make space science fun!


For the aspiring astronaut or any child who wonders what else is out there, model solar systems are a fantastic way to bring the galaxy to them. Scaled models contain accurate depictions of our planets, including scale and distance charts.... read more


This catalog is currently out of stock.


Please search through our categories for another catalog.


- or -

Shop for model solar systems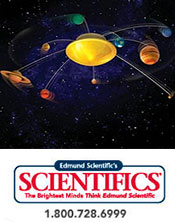 More About Model Solar Systems - Edmund Scientific:
Other great Edmund Scientifics departments:
As a teaching tool, it's perfect for learning about distance, size and placement.


Enjoy the wonder of examining our solar system through the eyes of a child. A solar system mobile made of sturdy stainless steel will provide entertainment and enjoyment as each planet follows actual orbit paths and rotate independently of the others, just as they do in outer space. Glow-in-the-dark mobiles will delight young children during the night! Model solar systems are great for science and astronomy buffs, especially kids who dream of one day soaring into outer space.
Adults and children alike will love how model solar systems bring some of the universe into their own world!