Catalogs.com Departments

News & Articles

Musical Toys for Babies – Oompa Toys
Simply wonderful kids' stuff, including musical toys for babies
If you're looking for simply wonderful, high-quality children's toys, including musical toys for babies… European-inspired toys that don't need batteries, blinking lights or cartoon characters to resonate with kids and parents alike, then you'll be singing the praises of Oompa Toys – kids' toys that strike a different chord.


Let the music play on Oompa's hit line of musical toys for babies -- including top sellers like the Baby Grand Piano from Schoenhut; the Shake, Rattle, & Drum Set from Sounds Like Fun; the Circus Time Wooden Maraca Set from Trophy Music; and the Oval Xylophone from Plan Toys. Let's hear it for the band!... read more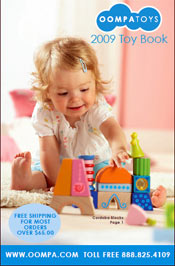 More About Musical Toys for Babies – Oompa Toys:
Other great Old Oompa Toys departments:
At Oompa online you'll find an ever-expanding collection of European wooden toys, musical toys for babies, educational toys, nursery and playroom décor, and baby gear -- including baby strollers, high chairs, diaper bags, baby luggage, bath-time accessories and more.
Stylish kids and their discerning parents will appreciate Oompa's ultra-chic, clean-lined, European line of sophisticated children's furniture -- Oompa's got all the top-sellers from leading European children's furniture manufacturers: Haba, Latitude Enfant, Oeuf, Sevi, Tatiri and many more.
Form and function. Style and comfort. Oompa's baby and children's furniture and room décor delivers! -- find everything from cool, ultra-modern cribs, trendy tables and sleek seating, to dreamy beds & bedding, smart desk designs and clever playroom storage options.
When it comes to toys for babies, keeping it simple is simply better – items sold at Oompa Toys are not only natural, safe and eco-friendly, but also non violent in nature.