Catalogs.com Departments

News & Articles

Preschool Graduation Certificate - Alphabet U
A preschool graduation certificate awards the youngest graduates
When each preschooler receives a preschool graduation certificate at their special commencement ceremony, it just makes the day more memorable for everyone involved.


Preschool teachers want a unique way to show their little students that they're moving on to the next level. What better way than with a preschool graduation certificate? The bright, cheery designs from Alphabet U are perfectly suited for the youngest grads.... read more


This catalog is currently out of stock.


Please search through our categories for another catalog.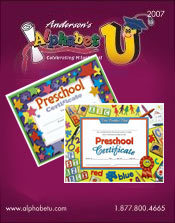 More About Preschool Graduation Certificate - Alphabet U:
Other great Andersonís Early Childhood Development departments:
Smiley faces, cuddly animals and school supplies are some of the designs you'll see on each certificate.


A preschool certificate set contains a certificate as well as a pencil, ribbon and pen all celebrating this achievement. Adorable animals dance around the certificate border. Teachers simply fill in the names, dates and other important information on a preschool graduation certificate. Choose from preschool certificates, promotion certificates, pre-kindergarten certificates and so much more!
Celebrate a milestone in a child's life with a preschool graduation certificate that the whole family will cherish.