Catalogs.com Departments

News & Articles

Science Educational Kits - Edmund Scientific
Science educational kits make learning fun for kids
Do you have a curious child who wants to know how everything in the world works? Then she'll love the variety of science educational kits that allow her to explore and create with different facets of science, all on her own.


Kids learn by doing and when they use science educational kits to make soap, build radios, Viking ships and study mechanics, it doesn't even feel like learning.... read more


This catalog is currently out of stock.


Please search through our categories for another catalog.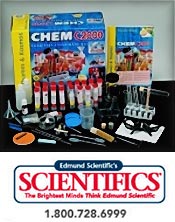 More About Science Educational Kits - Edmund Scientific:
Other great Edmund Scientifics departments:
It's fun! An aspiring chemist will get hands-on experience with chemistry experiment kits, while a robotics buff can create his own robot with the ultimate robot kit.


Have a budding chef at home? Then let her learn with kits that teach cheese making, brewing root beer and even hot sauce making! From mechanical to cosmetics, there are science educational kits that cover any aspect of science that holds kids' interests. Let them learn by doing, but also have fun at the same time.
Edmund Scientific has a huge selection of science educational kits that little scientists will enjoy, helping them learn about their world in an entertaining way.