Catalogs.com Departments

News & Articles

Smokey Bear Doll - Woodland Catalog
A Smokey Bear doll is a perfect gift for children
Give the gift of fire prevention awareness with a Smokey Bear doll, which can help teach a child all about how to keep our forests safe.


Kids love teddy bears and they'll love the familiar comfort of their own stuffed Smokey Bear doll. Available in various sizes, this toy is perfect for cuddling with at night or playing with during the day.... read more


This catalog is currently out of stock.


Please search through our categories for another catalog.


- or -

Shop for smokey bear doll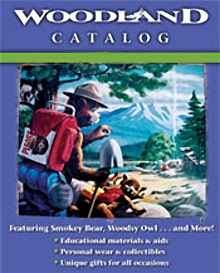 More About Smokey Bear Doll - Woodland Catalog:
Other great Woodland Catalog departments:
With his durable jeans and smart hat, he's a great playmate. Choose from poseable bears that kids can manipulate into various positions or talking Smokey, who reminds everyone how to practice fire safety!


A Smokey Bear doll makes a great gift idea for children. Do they love putting on puppet shows? If so, a Smokey ranger puppet can be the star. Or do they want a life-size version of their favorite bear? Choose a 36" tall Smokey Bear who actually talks -- kids will be delighted to hear him speak! Of course, this cuddly friend talks to them about fire prevention.
For an authentic Smokey Bear doll that will entertain children of all ages, shop Woodland Catalog for a great selection of toys featuring this friendly bear.