Catalogs.com Departments

News & Articles

Unique Boys Bedding - Stylish Kids Rooms
Unique boys bedding to suit any boy's room
Your little boy will love the unique boys bedding sets you'll find at Stylish Kids Rooms.


If you want something different that really sets your boy's room apart, then the unique boys bedding you'll find here will satisfy all your needs. For younger boys who dream of being firemen or police officers, the Heroes bedding set features all of the everyday heroes he looks up to.... read more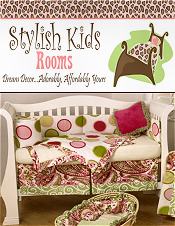 More About Unique Boys Bedding - Stylish Kids Rooms:
Other great Stylish Kids Rooms departments:
For older kids who want simpler designs, Nautical or Hot Chocolate styles are still boyish without being too young.


Unique boys bedding fits in with existing decor, or you can redo entire rooms around these cool themes. Race cars, sock monkeys and cowboys are just a few of the ways your boy's room can display what he loves best. With twin, full and queen sizes, these sets fit a variety of beds with quality fabrics and materials that are soft and comfortable.
Choose from a large selection of unique boys bedding that your little -- or big -- boy will delight in! Whether he wants to be a cowboy, astronaut, sports star or anything else that strikes his fancy, there's a bedding set perfect for his room.