Alberto Makali Dresses - LaMonir
Alberto Makali dresses are for the confident, sophisticated woman
You won't be disappointed when you go with the name Alberto Makali. Highly original, striking and statement-making, the Alberto Makali dresses you'll find at LaMonir are nothing short of breathtaking. Need something stunning for a special occasion? Then find what you need here and get ready to take someone's breath away.


Alberto Makali dresses are incredibly elegant - There's no end to the sophistication you'll find in this collection.... read more


This catalog is currently out of stock.


Please search through our categories for another catalog.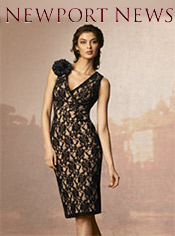 More About Alberto Makali Dresses - LaMonir:
Other great Newport News Dress Boutique departments:
Every single dress is designed to make a woman feel special and beautiful. Floaty materials, soft fabrics and the best construction will make you stand out at the next special occasion on your schedule. You'll be stunning, striking and absolutely gorgeous in an Alberto Makali design.


Chic and original - You'll find Alberto Makali dresses like no other. Incredibly original and designed to be unique masterpieces, every dress in this collection has something to offer any woman. The fabulous attention to detail and fine styling combine to create dresses so lovely and dreamy, you'll never want to take them off! You're sure to look like a one-of-a-kind goddess in a dress from this line.
For confident women - Do you have what it takes to pull off Alberto Makali dresses? Are you confident and just know you'll be the center of attention? Then these gorgeous gowns are for you! You won't be overlooked in a dress this unique or beautiful, so get ready for lots of attention, whether you wear one of these styles to a prom, gala, ball, holiday party or wedding!
When you want a dress as lovely as you, you can't go wrong with the Alberto Makali name. These dresses are made for women who appreciate clothing that expresses their femininity in a unique way. When you want to stand out from the crowd, a dress by Alberto Makali will make sure you do exactly that!