Catalogs.com Departments

News & Articles

Artificial Trees and Plants - Quality Silk Plants
Add pizzazz to any room with artificial trees and plants
Is the room in your home in need of a little bit of color? Artificial trees and plants add definition and beauty to your home with no hassle and no clean up! Keeping plants and trees alive can be a time consuming job, which is why so many people enjoy keeping artificial trees and plants.


Are you unfortunate enough to be one of the millions of Americans cursed with a brown thumb? Have you killed a cactus? If you answered "yes" to either of those questions, artificial trees and plants could be just for you! With these high quality artificial trees and plants, there's no need to worry about watering or plant food, just dust and go!


... read more


This catalog is currently out of stock.


Please search through our categories for another catalog.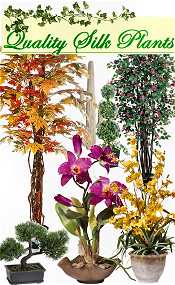 More About Artificial Trees and Plants - Quality Silk Plants:
Other great Quality Silk Plants departments:
Don't worry about killing these sturdy artificial trees and plants. There's absolutely no watering and no clean up needed! Whether you need a nice design touch in your living room or you just need a lovely way to hide some cords, artificial trees and plants are a great way to go.
Stop settling for fake looking trees and plants. The silk plant experts at Quality Silk Plants ensure that each artificial plant and tree is made with high quality materials and looks as genuine as possible.