Big Men's Swimwear - Casual Male Big & Tall
Big men's swimwear is perfect for the beach or the pool
Get ready to face your summer in style with the great selection big men's swimwear at Casual Male Big & Tall. These stylish swim trunks are made with the big and tall man in mind, so you won't have to worry about tight, too-short trunks. Take a dip in the pool or ocean, or just relax this summer in a pair of swim trunks made to be noticed!


Big and tall men need big men's swimwear - With these made-for-you trunks, you'll enjoy the coverage you want.... read more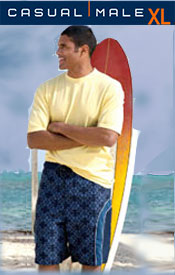 More About Big Men's Swimwear - Casual Male Big & Tall:
Other great Casual Male XL departments:
No more short shorts! You have the length and the room you need in this fashionable swimwear so you'll be comfortable whether you're swimming, sunning, running or playing.


A huge variety of styles - What's your style? Whatever it is, you're sure to find the perfect pair of swim trunks for you. From solid trunks to patterned designs, you'll find a large selection of colors and styles. If you like shorter length trunks, there are plenty of basic swim trunks for you. But if you like longer trunks, there are board shorts that are made for the big and tall man, so they'll definitely be long enough for your long legs! Paisley, colorblock, stripes, floral and plaids are just some of the cool patterns you'll find on this swimwear.
Names you know and love - Polo Ralph Lauren, Nautica, Harbor Bay and Island Passport are some of the brand names you know and want to wear. High-quality design combines with the latest trends to make these trunks the hit of the season. In fashion colors and big and tall-friendly styles, you'll love the variety of big men's swimwear you'll find here so get ready for one sizzling summer!
If you're looking for big men's swimwear, then shop a retailer who knows big and tall men. You're sure to be satisfied with the selection and value. Now you can have a great summer no matter what you do, in stylish swim trunks that will take you to the beach or pool with ease.