Catalogs.com Departments

News & Articles

BMX Skate Streetwear - Dan's Comp
BMX skate streetwear is stylish and cool
Are you a skater looking for the coolest hoodies, backpacks, shirts and boardshorts? Then Dan's Comp has the perfect collection of BMX skate streetwear just for you.


Whether you're on a board or on a bike, BMX skate streetwear will keep you looking cool wherever you go. You have a great selection of awesome gear, including hoodies, sweatshirts, shorts, boardshorts, jeans, pants, polo shirts, thermal shirts and more.... read more


This catalog is currently out of stock.


Please search through our categories for another catalog.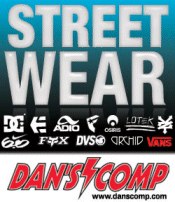 More About BMX Skate Streetwear - Dan's Comp:
Other great Dan's Comp departments:
They're not just clothes, they're part of your lifestyle and great for casual wear or for competitions.


Need accessories to complete your look? BMX skate streetwear includes all of the latest sunglasses, hats, beanies, backpacks, dog tags and more. Choose styles for summer or winter: shorts are perfect for the beach or boardwalk, while thermal and flannel shirts will keep the chill off, but your look still says "cool." Look great while you're doing your tricks for sport or just for show.
All of the hottest skaters and bikers know where to get outfitted in great BMX skate streetwear, so what are you waiting for? Look cool while hanging out or while competing!