Catalogs.com Departments

News & Articles

Casual Hats for Men - Waterfronts Nautical
Casual hats for men are the perfect accessory
It's not enough to wear a comfortable outfit, whether you're boating, fishing or just hanging out. To keep the sun off your face and out of your eyes, casual hats for men are a summertime necessity. Slip one on for all your outdoor activities and you'll add just the right touch no matter where you are.


A wide selection of casual hats for men - There's much more to casual hats than the standby ball cap.... read more


This catalog is currently out of stock.


Please search through our categories for another catalog.


- or -

Shop for casual hats for men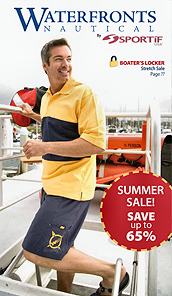 More About Casual Hats for Men - Waterfronts Nautical:
Other great Men's Nautical Clothing departments:
Casual hats for men includes fisherman bucket hats, Panama hats and crushable cotton hats as well. If you love the ball cap, there's plenty of variety to choose from, including captain hat, first mate hat, skipper hat, crew hat, lighted ball cap, beer cap, beer label hat, ensign flag hat, Diamond logo ball cap and many more.


Perfect for all outdoor adventures - Slip into these cool casual hats anytime you step outside. They're perfect for fishermen, golfers, hikers, boaters or any guy who wants to soak up the sun while shading his eyes. Hats are also great sun protection for when you're outside all day. Brimmed hats like bucket hats, crushable cotton hats and Panama hats give even more protection to shield your face and neck. Guys who live in sunny climates can wear these casual hats for men year-round.
Portable and packable - Why not toss your favorite cap into your bag for trips? Take them on vacation. Because they're so portable and easy to pack, you can easily take more than one. You'll look resort casual in brimmed hats, while a ball cap is perfect for lazy afternoons spent walking the beach. Don't get caught outside without a casual hat to protect your head and face, even on vacation!
Waterfronts Nautical carries a great selection of men's casual hats that are for more than just nautical activities. You can wear these hats anytime you want to look as cool as you feel.