Catalogs.com Departments

News & Articles

Cat Lovers Clothing - Serengeti
Cat lovers clothing is perfect for anyone who loves her cats
Display your kitty love with pride! Cat lovers clothing is perfect for the woman who loves her cats and wants to showcase it through her individual style. Now you can wear shirts, sweatshirts and even pajamas that display the many cute faces of cats.


Soft and comfortable t-shirts will keep you cool during warm weather. Add playful kittens and your look is unique and fun! Choose cat lovers clothing like a colorful cats tee, inquisitive cats tee, kitty shower t-shirt, relax kitty tee and more.... read more



Shop for cat lovers clothing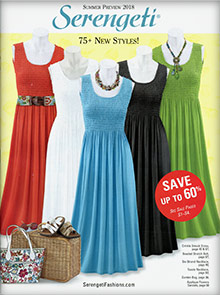 More About Cat Lovers Clothing - Serengeti:
Those adorable eyes and cuddly bodies will make you happy every time you slip one of these tops on and are great for casual outfits.


Need cat lovers clothing for cool weather? You'll find a ton of colorful sweatshirts with sweet kitty faces on them, including a sleeping kitty sweatshirt, black velvet cat sweatshirt or an embroidered cat and friends sweatshirt. You can also select a happy cat robe or cats flannel pajamas for feline-inspired sleepwear or loungewear. If cardigans are more your style, you'll love the bright cats cardi with its vibrant and fun colors.
Serengeti carries a great variety of cat lovers clothing that's sure to let the world know what your favorite animal is!