Childrens Horse Pajamas - Back in the Saddle
Childrens horse pajamas are great sleepwear for boys and girls
For the little boy or girl who adores ponies, giving them childrens horse pajamas is a wonderful way to ensure sweet dreams about their beloved horses every night!


What little girl doesn't love ponies? Now she can wear childrens horse pajamas like sleepy head horse pj tees or pj sets and a horse stripe pj set or nightgown. You can also choose lavender horses pajamas, silhouette ponies nightgown, sleepy head pj boxers, life is good cool horse nightgowns, sleep tees, sleep pants and much more!



Pink, purple, white, gray and tan are some of the soft and cozy colors you'll find on childrens horse pajamas, sure to keep little ones cozy all night long.... read more



Shop for childrens horse pajamas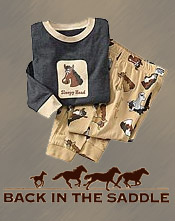 More About Childrens Horse Pajamas - Back in the Saddle:
Other great Back in the Saddle departments:
Mix and match these fun styles, which feature ponies and horses in a variety of designs that will appeal to the youngest horse lovers. These pajamas make great gifts for birthdays and holidays as well, when you need the perfect present for the little rider or pony fan!

Back in the Saddle carries a colorful selection of childrens horse pajamas that will ensure sweet dreams about ponies and riding for little boys and girls everywhere!