Catalogs.com Departments

News & Articles

Convertible Bras - BraStraps.com
Convertible bras transform to wear under any top
You don't need to buy a dozen different bras when you have a convertible bra, which transforms into just the bra you need.


Wear the shirt you want without worry - Convertible bras work under tank tops, halter tops, low back tops, spaghetti strap tops and camisole tops. Just detach the straps and clip them back on in whatever way works best.... read more


This catalog is currently out of stock.


Please search through our categories for another catalog.


- or -

Shop for convertible bras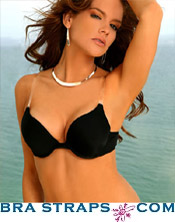 More About Convertible Bras - BraStraps.com:
Other great BraStraps.com departments:
Use clear bra straps when you want them to be invisible under skinny straps.


Save money with convertible bras - Instead of buying one bra to wear under one top, transform the bra you already own! Don't spend money on something you only wear once in a while. Convertible bras allow you to change up your bra's look depending on what you wear. It's like having a handful of bras in one.
Wear your bra five ways - With three sets of straps included, you can wear your convertible bra in these styles: two strap, halter, backless, clear two strap and racer back.
BraStraps.com carries convertible bras that you can wear a variety of ways, allowing you to turn one bra into just the bra you need for any top.