Dark Gothic Clothing - Pyramid Collection
Dark gothic clothing is perfect for goths and goddesses
True goths want dark gothic clothing that's comfortable, stylish and very unique. From dresses for goth girls to coats and cloaks, Pyramid Collection has a fantastic selection of apparel and accessories for all goths.


Goth women will love this dark gothic clothing, including ruffled bustier tops, dagger print dress, studded ribknit hoodie, familiar tank dress, winged heart shrug, black widow tank, white or black pirate queen dress, purple twill bodice, embroidered gothic top, suede weskit, brocaded lace-up corset, tapestry gown, velvet moonbeam dress and much more! From gothic to romantic, you'll find a ton of dark styles perfect for you.... read more



Shop for dark gothic clothiing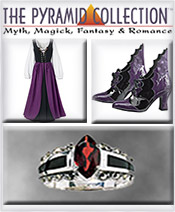 More About Dark Gothic Clothing - Pyramid Collection:
Other great Pyramid Collection departments:
Dark gothic clothing is made for your lifestyle, from casual everyday wear like hoodies and tank tops, to more dramatic attire like sorcerer's cloaks and velvet capes. Be mysterious, be intriguing in this unique apparel that's well beyond ordinary mortals! With such a full collection of clothing and accessories, you'll have a goth look worthy of admiration wherever you go.
Shop here for dark gothic clothing that's made to please goths of all ages and styles, perfect for all occasions.