Catalogs.com Departments

News & Articles

Faviana Gowns - LaMonir
Faviana gowns are perfect for all your evening wear needs
When you want to look your absolute best for a special occasion, choose Faviana gowns. You can wear these beautiful dresses to a variety of semi-formal and formal events. Perfect for women of all ages, you'll find just the style to make you feel like a princess at LaMonir.


A collection of Faviana gowns - Short or long, you'll find just the dress for you.... read more


This catalog is currently out of stock.


Please search through our categories for another catalog.


- or -

Shop for faviana gowns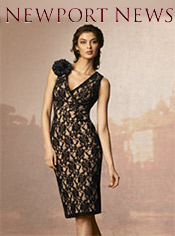 More About Faviana Gowns - LaMonir:
Other great Newport News Dress Boutique departments:
For semi-formal and formal events, look for the Faviana name. Looking for a red carpet dress without the high price tag? Some of these gorgeous gowns are inspired by dresses worn by your favorite stars and celebrities. Now you can get the same look for less. Whether you want the Beyonce or Eva Longoria look, you'll find a ton of beautiful choices in the Faviana collection.


For a variety of special occasions - These dresses work for a wide range of special occasions, including proms, beauty pageants, holiday parties, galas, balls, charity events, weddings and more! You can also select styles perfect for bridal parties. Faviana gowns are designed to flatter women of all sizes, so finding your perfect dress is a breeze! You'll look and feel gorgeous in these lovely colors and styles.
Women's evening wear at its best - Slip into the Faviana name the next time you have a special occasion to attend and get ready to attract plenty of attention. Short, semi-formal dresses mingle with long, more formal Faviana gowns. From young and flirty styles to chic and sophisticated designs, all women will love the variety of dresses they can choose from. For your next after-five event, get ready to look and feel stunning!
Shop for evening wear and special occasion dresses you'll find nowhere else. The name Faviana stands for beauty, style and sophistication -- and so will you wearing one of these knockout dresses!