Kids Horse Apparel - Back in the Saddle
Kids horse apparel outfits the youngest horse lovers
The youngest riders and pony lovers will love getting outfitted in kids horse apparel, which is perfect for indoors or out. Back in the Saddle has everything you need for girls and boys who want to wear horse-themed clothing wherever they go!


Little girls who've always dreamed of having their own ponies can now wear them. Cute pink fleece jackets are adorned with dancing white ponies, while a raincoat features multicolored horses on a pink background, perfect for keeping girls dry and warm.... read more



Shop for kids horse apparel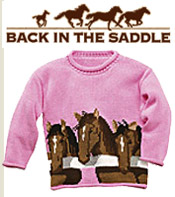 More About Kids Horse Apparel - Back in the Saddle:
Other great Back in the Saddle departments:
You can also choose kids horse apparel like children's sweaters, vests and jackets, all designed with horse themes for the littlest pony fans.


Have a little boy who loves riding? Then choose a gray horses fleece jacket, which will keep him warm and comfortable in cool weather. For young riders, you'll need kids horse apparel such as cotton bootcut tights, knee patch tights and power stretch winter breeches. Durable and with the right amount of stretch, these riding tights and breeches are made for all seasons.
Kids horse apparel is not only for riders, but for all girls and boys who want to showcase their love of ponies everywhere they go!