Renaissance Period Fashion - Pyramid Collection
Renaissance period fashion is great for historical enthusiasts
Modern fashions don't have the same romantic appeal of bygone eras. If the Renaissance is your favorite historical era, then Renaissance period fashion will satisfy your need for sweeping, dramatic styles.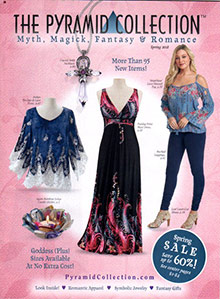 More About Renaissance Period Fashion - Pyramid Collection:
Other great Pyramid Collection departments:
Women can wear Renaissance-inspired styles such as a handkerchief blouse, gypsy dancer skirt, velvet taffeta dress, long gloves, bordeaux dress, Renaissance faire ensemble, velvet top, garnet vest, velvet dress, buckled corsets and more!


Renaissance period fashion is not only for playing dress up. You can incorporate some of these styles into everyday wear for an out-of-the-ordinary look that's sure to be noticed! Men's Renaissance styles include waistcoats, big shirts, velvet bard shirts, gauntlets, cloaks and capes. You can play the dashing hero or Renaissance man in these unique designs.
For Renaissance period fashion that calls to mind a more romantic time in history, Pyramid Collection carries apparel that's perfect for men and women who can't get enough of historical style.