Summer Casual Skirts - Soft Surroundings
Summer casual skirts are great for warm weather style
It might be hot outside, but you'll stay cool in summer casual skirts that are perfect for the season.


Long, floaty summer casual skirts look great during warm weather. Pair them with camisole tops, tank tops, halter tops or soft, comfy tees. Slip on a pair of sandals and you're out the door in style! Colorful oceanside skirts call to mind sea breezes with their calm blue and green colors, while a swingy Arielle skirt in linen is a cool way to dress.... read more



Shop for summer casual skirts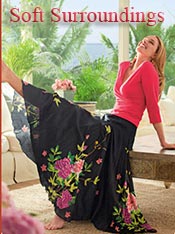 More About Summer Casual Skirts - Soft Surroundings:
Other great Soft Surroundings departments:
Enjoy the bright hues of a St. Lucia or Que Canto skirt, both of which have a distinct island vibe that befits the season.


Summer casual skirts from Soft Surroundings come in a range of sizes, from petite to tall, making these skirts available for any woman. Soft materials like linen and cotton are perfect for summer days or summer nights. A Baroque skirt is elegantly detailed and looks great on a date or on a hostess at a garden party.
With such a lovely selection of summer casual skirts to choose from, it'll be hard to wait for the weather to warm up!