Catalogs.com Departments

News & Articles

Summer Silk Shirts - Waterfronts Nautical
Summer silk shirts are fashionable and cool
You'll have a fantastic summer no matter where you spend it when you wear summer silk shirts made for men. These casually elegant tops are perfect for walking on the beach, backyard barbeques, late night parties and for packing on last-minute trips. You'll be cool and stylish in these short-sleeved tops made just for the season.


Summer silk shirts are chic - You'll look great no matter where you go in these stylish tops.... read more


This catalog is currently out of stock.


Please search through our categories for another catalog.


- or -

Shop for summer silk shirts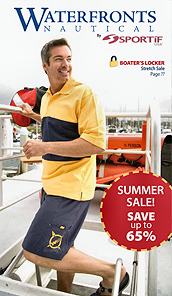 More About Summer Silk Shirts - Waterfronts Nautical:
Other great Men's Nautical Clothing departments:
Silk shirts work with dressy shorts, khaki shorts or slacks. Slip on a comfortable and well-worn pair of boat shoes and your outfit is complete -- easy and elegant! Short sleeves will keep you cool whatever you do, but you'll never look too casual. Your look will be just right for weekend activities that take you through the entire season.


Great for the season - Whether you spend your summer fishing, boating or relaxing in your backyard hammock, these shirts are a cut above plain old tees. You'll look incredibly chic in these collared silk shirts. Subdued colors work to keep you cool and in style for summer. Choose from prints like boats, palm trees, drink glasses and hibiscuses. Fun and carefree, you'll look like a million bucks in these casually cool summer silk shirts made just for you!
Take them on vacation - For those long-planned getaways or spur-of-the-moment day trips, toss these silk shirts into your bag and you'll be ready to go in no time. Head down to the Keys or take that dream cruise. Summer silk shirts are perfect for tropical locales. The lightweight fabric cools you off and the various prints and patterns are made for summer! Spend the afternoon on your boat with friends or family -- just relax and stay cool.
Waterfronts Nautical brings men the latest silk shirts for all of their activities. Whatever you love to do in the summertime, you'll enjoy it even more in these stylish and attractive silk shirts made for guys who want to have fun and look good while doing it!