Catalogs.com Departments

News & Articles

Unique Clothes Online - Colorful Images
Unique clothes online are great for one-of-a-kind style
Create your own fashion sense with unique clothes online that are comfortable and full of fun! Men, women and children can wear apparel that expresses their interests and feelings, without having to say a word.


If you march to the beat of your own drum, then you'll love this selection of unique clothes online, for yourself or for giving as gifts.... read more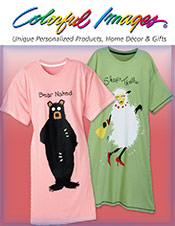 More About Unique Clothes Online - Colorful Images:
You'll find all kinds of tee shirts that are made for kids as well as adults featuring themes like happy holidays, Sesame Street, family reunions, bride and grooms, sleeping kitties, dogs, jolly snowmen and much more!


Ladies, if you're looking for unique clothes online like comfortable sleepwear that displays a sense of humor, try catnap nightshirts, M&Ms lounge pants, doggie diva nightshirts and more. Guys, tell the world how you really feel in an Old Guys Rule tee or one that says It Takes a Lot of Beer. These funny tees and nightshirts make wonderful gifts for those people who seem to have everything!
Colorful Images has a great variety of unique clothes online sure to please kids, men, women, pet lovers and anyone in between!