Women's Equestrian Clothing - Back in the Saddle
Women's equestrian clothing sets riders apart in style
Riders need just the right attire, and women's equestrian clothing is made for female riders who require tough but stylish garments that are made to withstand chores, riding and relaxing.


You'll find women's equestrian clothing for different events and seasons at Back in the Saddle, including garments suitable for cold weather such as reversible riding vests, quilted vests, plaid fleece tops, fleece zip pullovers, oilskin barn jackets, winter riding jackets, power stretch winter breeches, toasties tights and power stretch ultimate riding tops.... read more



Shop for womens equestrian clothing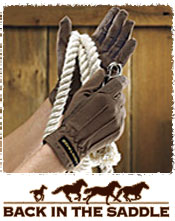 More About Women's Equestrian Clothing - Back in the Saddle:
Other great Back in the Saddle departments:
You'll stay warm and dry during fall and winter, all while maintaining your stylish edge!


If you need to stay cool while handling ranch chores no matter what time of year it is, women's equestrian clothing will take you through a variety of tasks. Choose cute and fashionable horse power tees, cool rider tanks, sunshirts or dream horses camisole tops. You can ride, work or play in style in these durable, rugged fashions that are perfect for female equestrians!
For a fabulous selection of women's equestrian clothing that's made to withstand different weather conditions, ranch work and anything else you can dish out, these styles can't be beat!