Catalogs.com Departments

News & Articles

Women's Flannel Shirts - Active Ride Shop - Womens
Browse adorable and cozy women's flannel shirts
Are you looking for a new, comfortable way to stay warm during those cold winter months? Is your boyfriend tired of you stealing his favorite button down flannel shirts? It's time to get your own women's flannel shirts!


Women's flannel shirts are the perfect, stylish way to keep warm! Whether you're layering up for a day on the slopes or you're lounging around the fireplace with that special someone, you will both enjoy the soft, coziness of your new stylish women's flannel shirts.


... read more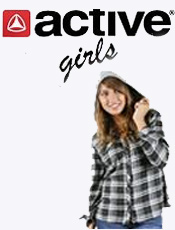 More About Women's Flannel Shirts - Active Ride Shop - Womens:
Other great Active Ride Shop - Womens departments:
From traditional plaid patterns to bright, vibrant colors, you're sure to find the color and style that best suits you! Unlike men's flannel shirts, these chic women's flannel shirts are designed to fit the curves of a woman instead of just hanging off of you like a potato sack! Try wearing your new flannel shirt over a fitted tank for a flirty, tom boy look or button it up and wear it underneath your favorite jacket for a day of frolicking in the snow!
With this wide selection of functional women's flannel shirts, you'll never have to sacrifice style for comfort. Made of soft, warm fabrics, these adorable shirts are sure to become one of your favorite wardrobe pieces.