Women's Horse Pajamas - Back in the Saddle
Women's horse pajamas are the perfect sleepwear for horse lovers
You want soft and comfortable sleepwear and loungewear that also features your beloved ponies, so women's horse pajamas from Back in the Saddle are just what you need to have sweet dreams about horses all night long!


Choose your perfect style of horse-themed sleepwear in your favorite colors and unique designs. Snuggle up in pistachio horse silhouette pj pants, tees and boxers or get cozy in nightshirts featuring themes like Prancing with the Stars, Roll in the Hay, Coming and Going or Mustang Run.... read more



Shop for womens horse pajamas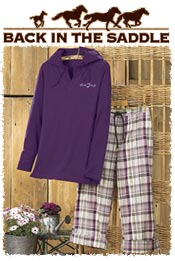 More About Women's Horse Pajamas - Back in the Saddle:
Other great Back in the Saddle departments:
You have your choice of soft colors or bold patterns in women's horse pajamas!


Nightshirts, lounge pants, ladies boxer shorts, bathrobes, pajama tees, tank tops and pj sets are some of the women's horse pajamas you'll find. With such a huge variety, you're sure to find the perfect style for you! Wear them to bed or relax on weekend mornings in these comfy designs that are great for horse lovers. Need a gift idea for that pony fan in your life? Women's horse pajamas may be just what you're looking for!
If you've always wanted sleepwear and loungewear that showcases horses in fun, whimsical and unique designs, now you can choose your perfect style.