Airbrushing Paints - Utrecht Art
High quality airbrushing paints can help with fun projects
Whether you're stenciling on the side of a hog or painting a unique design on fingernails, the right airbrushing paints can affect the quality of your work. Utrecht Art offers high quality airbrushing paints at affordable prices.


Airbrushing paints have a number of different uses. Whether you are a veteran airbrush artist or attempting to sharpen your novice skills, airbrushing paints have a wide variety of uses. You can easily create beautiful designs and amazing logos that will capture everyone's eye! Don't settle for cheap airbrushing paints that will make your work look poor. Browse some of the most reputable name brands in the airbrush business!


... read more


This catalog is currently out of stock.


Please search through our categories for another catalog.


- or -

Shop for airbrushing paints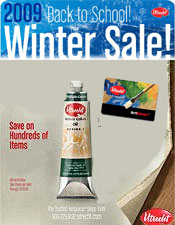 More About Airbrushing Paints - Utrecht Art:
Other great Utrecht Art departments:
If you like to create your own designs or you're an expert at recreating popular graphics, you're certain to find airbrushing paints and supplies that will help you get the job done. Airbrushing is a modern, popular art that many use to create designs on motorcycles, clothing, wood, safety equipment and more!
Find a cool selection of airbrushing paints that will enable you to tackle a number of projects without spending too much money. No matter how tight your budget is, you're sure to find exactly what you're looking for to get the job done.