Catalogs.com Departments

News & Articles

Art Supplies for Kids – Sunshine Discount Crafts
Have loads of fun with art supplies for kids
Creativity is the spice of life; so let your kids have fun and show their artistic side with art supplies for kids. Children will never run out of exciting and challenging things to do when they use their minds, hands and ingenuity to create something special.


Watercolors are great – Create your own masterpiece with a watercolor paint set.... read more


This catalog is currently out of stock.


Please search through our categories for another catalog.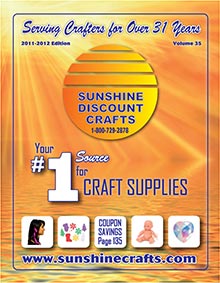 More About Art Supplies for Kids – Sunshine Discount Crafts :
Other great Sunshine Discount Crafts departments:
Draw a serene landscape, an impressive mosaic or a picture of your favorite pet with watercolors and other great art supplies for kids. Paint using deep blacks, lively yellows, vibrant reds, warm browns and other primary colors to create your own work of art.


Be silly with Face Colors – Wouldn't it be fun to make silly faces, draw scary eyebrows or fancy butterflies right on your face? Well, you can with Face Crayons that allow you to draw fun pictures on your face just like a circus clown. There are many art supplies for kids, like Face Colors, that are non-toxic.
Have fun with markers – You can create your best work of art with art supplies for kids. Try your hand with markers that come in a hundred different colors allowing you to make fantastic pictures for friends, family and your bedroom wall. Use the fine tip for intricate detailing and the broad tip to color larger areas.
Art supplies for kids give little ones hours of fun and creativity.