Catalogs.com Departments

News & Articles

Bead Craft Supplies - Sunshine Discount Crafts
Bead craft supplies provide hours of crafting fun
Create unique jewelry and one-of-a-kind art with a huge variety of bead craft supplies.


Make your own jewelry - You have so many options with bead craft supplies. You can make jewelry to accessorize any outfit. Glass beads, acrylic beads, glass pendants, bone beads, wood beads and stone beads come in so many different colors and styles, you can create a unique look for every day.... read more


This catalog is currently out of stock.


Please search through our categories for another catalog.


- or -

Shop for bead craft supplies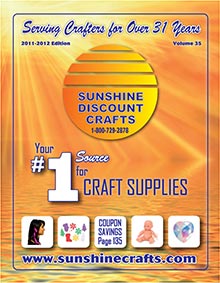 More About Bead Craft Supplies - Sunshine Discount Crafts:
Other great Sunshine Discount Crafts departments:
Create artwork - Beaded banner kits are available in themes for the holidays and also feature animals like monkeys, penguins, dolphins and cardinals. Make your own ornaments with bead kits. Create Christmas ornaments, kitty ornaments, penguin ornaments and much more.
Everything you need right here - Besides the huge selection of beads, you can also select bead craft supplies like beading thread, needles, organizers, bead stringers, precision pliers, cords and more to complete your projects.
Sunshine Discount Crafts brings your creativity to life with a great selection of bead craft supplies and accessories. Anything you need for that next beading project is right here.