Catalogs.com Departments

News & Articles

Cool Kids Stickers - Current
Cool kids stickers are great fun for kids
Give children different ways to explore creative outlets by giving them tools to create in their own way. Cool kids stickers are fun and allow children to decorate artwork, school supplies or their rooms.


With so many cool kids stickers, boys and girls will have stickers for any occasion, including holidays. Stickers are available for Christmas, St.... read more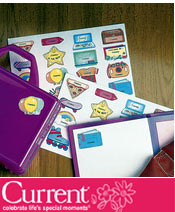 More About Cool Kids Stickers - Current:
Patrick's Day, Valentine's Day and for seasons like spring and fall. Kids can use sticker sets to make their own turkeys, perfect for Thanksgiving, or to build their own cars. 3D stickers add another dimension of fun and come in surf, holiday and swim varieties.


Children can place these colorful and vibrant stickers on folders, pencils, backpacks, pencil bags, lunch boxes or anywhere they want to add a unique stamp of their own. Dogs, monkeys, cars, cats, flowers and Disney themes are just some of the designs you'll find on cool kids stickers. Gift them with stickers like these and sit back and enjoy the fun!
Cool kids stickers from Current provide amusement and a world of artistic possibilities for boys and girls alike!