Craft Art Supplies - American Science & Surplus
Explore your creative side with craft art supplies
Are you searching for a creative way to connect to your kids or entertain your guests? Do you want to get in touch with your inner artist? Explore your creative side with craft art supplies from American Science & Surplus.


Find a use for all those random rocks your kids collected in the yard with a large rock polishing kit. With a rock polisher, you can make beautiful jewelry out of rocks that you once thought were useless! Become a bejeweled craft queen with craft art supplies today!


... read more


This catalog is currently out of stock.


Please search through our categories for another catalog.


- or -

Shop for craft art supplies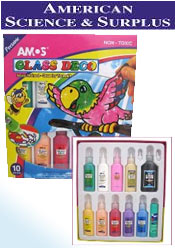 More About Craft Art Supplies - American Science & Surplus:
Other great American Science & Surplus departments:
Your children will be entertained while learning about rocks and minerals with the endlessly entertaining Bright Box of Rocks. Enjoy examining the cool colors and unique, natural shapes of each rock with your kids.
Are you looking for a fun activity that will end with chic jewelry? With a large assortment of beautiful, colorful beads, you can mix and match to make gloriously unique jewelry. With unique craft art supplies, you can make original pieces that you can keep for yourself or give away as unique gifts!
From professional grade paint brushes to sketch books, you're sure to find the right craft art supplies. If you're looking for kids craft supplies or seasonal, Christmas craft supplies, you can find the perfect gift for the craft lover in your life.