Catalogs.com Departments

News & Articles

Martial Arts Defense - Collector's Edge
Martial arts defense training and weapons
Proper martial arts defense techniques rely on superior training weapons. Collector's Edge has an impressive selection of weaponry that will show your skills to their best advantage.


Martial arts training weapons include an array of items made for the serious student. From acrylic nunchaku to wooden dragon nunchaku, you'll find the martial arts defense tools you need to train effectively and skillfully.... read more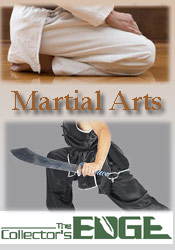 More About Martial Arts Defense - Collector's Edge:
Other great Collector's Edge departments:
Knowing how to wield this weapon, with its ability to travel through the air at dizzying speeds, is worth knowing for any genuine student of the arts.


Practice makes perfect. Your martial arts defense techniques will only improve when you have a collection of training weapons that are as deadly as they are handsome. Metal sais, manriki chains in black or silver, hook swords and iron whips are just some of the weaponry you'll find at Collector's Edge, for the real martial arts enthusiast.
Display them or practice with them -- these martial arts defense weapons are beautifully wrought, but have a dangerous edge that aren't for the meek.