Catalogs.com Departments

News & Articles

Movie Sword Replica - Collector's Edge
A movie sword replica is perfect for the true fan
A movie sword replica from your favorite film is a great way to relive all those exciting battles. Be a swashbuckler, gladiator or Roman soldier with authentic movie replica swords at your side.


Collector's Edge carries an incredibly realistic movie sword replica collection. Are you a fan of 300? What about gladiator movies that show bloodthirsty Romans at their best? A handforged Spartan sword or Roman gladiator sword lets you re-enact some of the greatest battles in history.... read more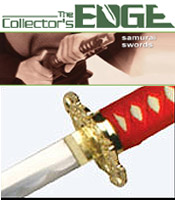 More About Movie Sword Replica - Collector's Edge:
Other great Collector's Edge departments:
Just be careful not to get carried away!


Historically accurate swords are made according to their unique era in time, making them great for history buffs as well as movie fans who favor action films with intricate sword fights. A movie sword replica is a cool accessory for role playing or portraying your favorite gladiator hero. Practice your sword-fighting moves so you'll be ready for anything.
Get a movie sword replica today and enjoy the thrill of battle -- with or without the danger!